Nelson Company's Beginnings in Materials Handling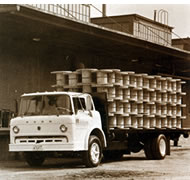 The Nelson Company was launched in 1911 as a lumber supplier in Pottsville, Pennsylvania. By 1918 operations were expanded to Baltimore, Maryland. Our early years in Baltimore focused on supplying wood packaging to the Bethlehem Steel Company tin mill at Sparrows Point. We continued our relationship as a preferred vendor for more than 90 years.
Over time our company became a manufacturer of wooden pallets; wire and cable reels; and industrial packaging products. We have been a trusted packaging partner in many industries for more than a century.
Today we're more committed than ever to continuing our legacy of quality workmanship, durable products and customer service.
Nelson Company is also proud to be the:
Nelson has grown to supply a number of other industrial packaging needs. Our Associated Box Division, located in New Castle, Pennsylvania, has been serving the material handling needs of industry since 1891. Together we are recognized as leaders and innovators in the packaging industry.

1940's to 1990's
Fifty Years of Growth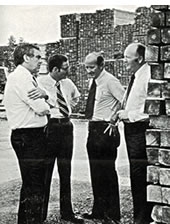 During World War II the company manufactured large crates for aircraft parts, and shortly thereafter expanded the pallet and skid business geographically to cover the entire United States east of the Rocky Mountains.
In the 1950's, product lines were expanded to include corrugated products including circles, donuts, wrappers and cartons. Later, angleboard and slipsheets were added.
From 1940 thru 1996 Nelson was a major manufacturer of wood and plywood wire and cable reels. In the late 1980's we introduced our reverse distribution services, the early beginnings of managing the complete life-cycle of our packaging solutions.
1990's and Beyond
New Products and Technologies
Our reverse distribution business significantly expanded during the 1990's. The pallet product line was also expanded from wood pallets to metal, plastic and corrugated.
In the mid 1990's the company began to manage and track customer's inventory of shipping platforms. This has been expanded to other shipping products and is now managed by The Nelson Company's software system, Nelson-ART™.
Over the last decade, while maintaining superior performance in asset management, The Nelson Company has expanded into a global leader in "one way" or "export" plastic pallets. By offering a high quality, low cost, plastic alternative to the most popular wood sizes, Nelson has created and expanded a new demographic in the plastic pallet market place.
The Nelson Company continues to expand its locations and customer service staff to insure the most value to the customer. The Nelson staff is well equipped to find packaging solutions which make for successful project management.
Quality workmanship, durable products and a proven long-term commitment to customer service and satisfaction, coupled with competitive pricing and on-time delivery, make The Nelson Company a strong and dependable supplier to America's industries.