Custom Designed Wood Pallets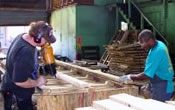 The Nelson Company can assist your company in the design and development of custom wood pallets.
Our sales representatives and engineers work side by side with customers to determine the requirements of every custom pallet we design.
Our process begins by fully evaluating and understanding each customer's individual material handling needs based on load and use criteria - including an extensive review and understanding of your supply chain.
Unit Load Design
You can feel confident in selecting Nelson to develop custom pallets for your business. Our technical sales director is an Advisory Board Member

at Virginia Tech.
The Center for Unit Load Design at Virginia Tech is the only laboratory with facilities to evaluate all aspects of unit load and material handling design and efficiency. Along with many other industry professionals, Nelson Company is a Center for Unit Load Design member

.
Based on our detailed analysis, the engineers at Nelson Company develop a proposed pallet design. The designs are later presented as three dimensional (3-D) diagrams to help our customers better visualize our custom pallet designs.
Learn More
Let Nelson Company design a wood pallet based on your specific needs or requirements. Contact Nelson Company today.