ISPM 15 Global Standards for Wood Packaging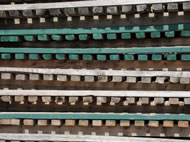 The International standard that requires the heat treatment of wood pallets is ISPM-15.
ISPM-15 is currently being enforced in almost every major importing country in the world. After treatment, ISPM-15 requires that the heat treated pallets are marked in a visible location with a legible and permanent mark approved by the International Plant Protection Convention.
Latest Updates
Due to the fact that the international standards for wood packaging are continually evolving, The Nelson Company requests that you download the following files for the latest update and other modifications:
Links for Additional Information
U.S. and Canada propose removal of the ISPM No. 15 Exemption
The Canadian Food Inspection Agency (CFIA) and U.S. Department of Agriculture, Animal & Plant Health Inspection Service (APHIS) are considering implementation of the International Standard for Phytosanitary Measures (ISPM) No. 15 for wood packaging material (WPM) circulating between Canada and the United States. More details available from: September 2008 issue of UPS Trade Broadcast.
  
USDA Animal Plant & Health Inspection Service
Government forms, information on the latest developments and FAQs.

International Plant Protective Convention
Organization responsible for the new international standard. Includes a copy of the IPPC standard and a list of IPPC member countries.
All material © IPPC or identified source
Information on How You May Be Affected
If you are interested in learning more about these new standards for solid wood packaging material, please let us know by contacting:
Richard Beaman
The Nelson Company
(410) 477-3000 x115
info@NelsonCompany.com
The Nelson Company is positioned to assist you with your import/export packaging needs and offers a multitude of transport packaging solutions that comply with the new standards.