Locations and Pallet Shipping Points
Exceptional service... worldwide - expect nothing less from The Nelson Company. We are dedicated to offering you a line of products that save you money and time while being environmentally friendly.
Shipping Points
Transportation costs and environmental impact are always a consideration in the materials handling industry. Shipping from strategic places around North America offers significant savings. Take advantage of our trusted nationwide shipping points at or near these major cities:
Baltimore MD (Corporate Headquarters)
Pittsburgh PA
Memphis TN
Atlanta GA
Columbus OH
Charlotte NC
Jackson MI
St Louis MO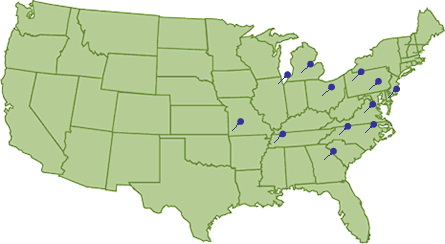 Sales Offices
The Nelson Company serves North American and International customers from multiple locations across the United States. Allow us to put our more than 88-year commitment to work for you.
Our well-trained and knowledgeable staff members look forward to speaking with you about transport packaging system analysis; unit-load analysis and optimization; exclusive custom pallet design system and waste management; reverse distribution with Nelson-ART® and single source supplying of new packaging.
Baltimore MD
Charlottesville VA
Chicago IL
Claremont NC
Newark, NJ
New Castle PA
Raleigh NC
Manufacturing / Distribution
In addition to our company-owned facilities, we have developed an expansive network of strategic partners and locations in Michigan, Ohio, Tennessee, Maryland, Georgia, Pennsylvania, North Carolina and Missouri. We offer you service wherever you need it, whether you need manufacturing, warehousing or recycling.
Baltimore MD
Claremont NC
Conyers GA
Columbus OH
Greencastle PA
Jackson MI
Memphis TN
New Castle PA
Contact Us
The Nelson Company is ready to apply our decades of experience to your packaging systems. Contact Nelson Company now to see how we can improve your current process, resulting in greater efficiency, cost-savings, and an improved bottom-line.