Recognition and Professional Memberships
By providing innovative products and service solutions, we at The Nelson Company put our nearly 90 years of industry experience to work for you.
Recognition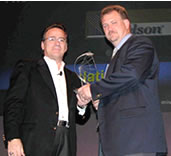 Our outstanding service has been recognized by the Dupont Company with their "Supplier Recognition Award".
The Nelson Company has been an active partner with DuPont in pursuing lower costs and improved services. We supply wood pallets, crates, wooden components and reverse distribution services to DuPont sites in Fayetteville, NC; Memphis, TN; Parkersburg, WV; Buffalo, NY; and Parlin, NJ.
This first-time award was accepted by David Caltrider, President and Owner (right) on behalf of The Nelson Company during the DuPont Global Suppliers Conference in Orlando. Hundreds of suppliers from throughout the world met with DuPont to determine how they can work more effectively to improve service and cost containment.
Memberships
The Nelson Company is a member in good standing with the following organizations: