About Nelson Company and Outsourcing
Outsourcing your transport packaging and reverse distribution services to an expert saves your company time and money. Using The Nelson Company as your solution provider puts our decades of total packaging management experience to work for you.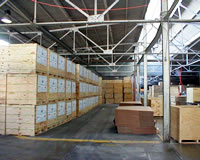 Our proficiency in transport packaging and reverse distribution enables us to provide a more cost-effective and time-efficient solution than most manufacturers and distributors can hope to provide with in-house resources.
Our Sales Professionals look forward to demonstrating how our unique systems-based approach to transport packaging can achieve multiple benefits for your company.
Benefits of Outsourcing
Cost Savings
Eliminate the expense of developing, maintaining and managing your own packaging distribution.
Flexibility
Meet sudden packaging demands without the burden of maintaining your own container inventory.
Increased Warehouse Space
We store and remove used containers and pallets, eliminating clutter in your warehouse.
Reduced Waste
Nelson helps you to reduce, reuse, and recycle to benefit both the environment and your profits.
Tracking and Accountability
Provided by Nelson-ART™, our Internet-based packaging management tracking system.
Stay Focused on Your Business
We have the resources and desire to be leaders in transport packaging and management - that's Our business!