Pharmaceutical Plastic Pallets
Reusable with Heat Sterilization
Our reusable plastic pallets allow for heat sterilization making the pallets clean and ready for shipment of pharmaceutical products. Made primarily from polyethylene, very little sticks to it. This makes plastic pallets an excellent, clean choice for white rooms and contaminant-free drug manufacturing.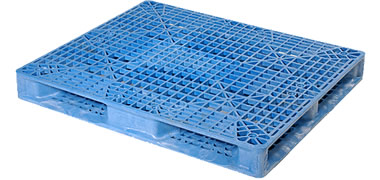 The PS4840FP-ProFM plastic pharmaceutical pallet is a popular reusable choice.
Built for Pharmaceutical Applications
Our PS4840FP-ProFM Plastic Pallet is a 48x40 plastic pallet specifically built for the safe transportation and storage of pharmaceutical products. This FM pallet meets decaBDE-free fire retardant standards and allows for safe double-stacking.
Plastic Pallets are Easy to Handle
In addition to protecting the integrity of your pharma products, our lightweight and consistently manufactured pallets protect pallet handlers.
Plastic pallets allow for easy handling by forklift and pallet jacks as well as other moving equipment – most are four way entry. Plastic pallets are also consistently dimensionally accurate which allows for greater productivity, less downtime and fewer costly accidents.
Benefits of Pharmaceutical Plastic Pallets
Plastic pallets offer long life and meet FDA and USDA sanitary conditions:
Impervious to acids, fats, solvents and odors
Resistant to water absorption or the growth of bacteria
Inert to infestation, mold and mildew