Plastic Containers and Crates
Nelson Company offers Plastic Containers in a wide variety for shipping and storage solutions. Replace your worn out Gaylord containers with plastic pallet containers to protect and secure your product in closed loop distribution systems, on your production floor for work in process and storage.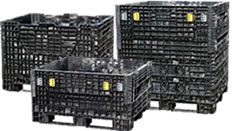 Manufactured with recycled or virgin content, these HDPE containers are constructed for long lasting durability as well as engineered for long life under severe and repeated use. These popular containers are often referred to as Gaylord boxes, collapsible plastic crates or bins, shipping crates and agricultural bins. Plastic pallet containers are offered in a variety of footprints and heights, with solid or removable wall construction.