Plastic Pallets
Plastic pallets are so strong and durable they last longer than other pallets - even in the most demanding materials handling environment. Add Nelson plastic pallets to your transport packaging system today for performance and savings. Available in a large variety of options to meet your budget and handling requirements:
View our Inventory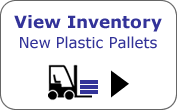 At Nelson Company, post-consumer and post-industrial waste gains new life as plastic pallets.
Our environmentally-friendly shipping products help companies like yours demonstrate a commitment to environmental sustainability. By using a plastic pallet, you can decrease overall costs and maximize profitability.
Made from 100% recycled plastic materials, our plastic pallet inventory is perfect for export or warehousing. They are resistant to infestation, mold and mildew. A pallet made of plastic also offers the benefit of dimensional consistency for more efficient handling.
Standard Size Plastic Pallets
Nelson Company offers a large selection of standard size plastic pallets available in 48x40 (U.S. inches) or 48x32 Euro pallets.
Semi-Custom Plastic Pallets
Are you looking for square, half-size or less common pallet dimensions? Nelson Company has those too! View our complete inventory of plastic pallets to find the exact size you need for your specific materials handling requirements.