Unitizing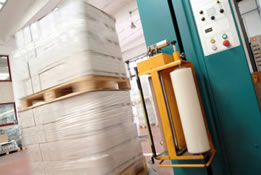 Unitizers are a critical factor in the packaging system. As part of Total Packaging Management, The Nelson Company offers some ancillary products in addition to its core offerings.
Items such as stretch wrap are used to maintain unit load integrity during storage and transport.
All of these items play a key role in the transport packaging system and need to be part of an integrated solution that includes the product, the packaging, and the pallet, rack or container.
Protective Packaging - Angleboard, Air Bags, Void Fillers
Corrugated Products
Bulk Bags (FIBC)
Stretch Wrap Unitizing Film
Packaging & Shipping Protection
Angleboard
Angleboard protectors are an economical way to guard the edges on packaging from shipping and handling damage. Made of recycled piles of paperboard that are laminated, treated, and formed into rigid right angles, Angleboard not only provides corner protection, but they also contribute greatly to easier unitization, stacking strength and material savings.
Edgeboard
Edgeboard is an ideal material for really tough shipping environments to increase stacking strength, improve unitization, and protect against damage from strapping. Edgeboard's water-resistant protection solution ensures that shipments arrive safely and intact.
Airbags
Airbags provide an optimum bracing system when shipping by truck, plane, rail or boat. The inflated airbags are placed into voids to protect against load shifts during transit. This solution helps to protect your investment and ensure that you realize a good return on your product.
Reusable Void Filler
Reusable void filler allows for shipping a less than full truck load without increased product damage from load shifting. This reusable filler is made of strong kraft corrugated in a honeycomb configuration. It is an effective and economical solution that simply hangs on the top of your shipment and expands downward to fill voids between stacks. The result is more stable, full shipping compartments.