Pallets and Shipping Products
Nelson Company manufactures and distributes pallets for a wide variety of uses. But we don't simply supply the pallet without regard to its application. In fact, we consider the pallet to be the key element to all transport packaging systems.
Determining Your Best Pallet Option(s)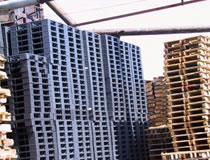 The main elements of a transport packaging system are the product being shipped, the primary and secondary packaging, the pallet, platform or crate, and the method of handling the entire package.
The pallet is key because it is the interface between the unit load (product and packaging) and the material handling equipment (forklift, palletizer, etc.).
Our knowledgeable sales staff can analyze your packaging requirements to determine your specific pallet needs. Whether it be wood, plastic or metal; stringer or block; standard or custom; new or used, we are able to supply the pallets and platforms ideally suited to your application.
Plastic Pallets
The Nelson Company has vast resources for all types of plastic pallets. Plastic pallets are available in a range of standard sizes and designs, or can be custom molded from polyethylene and polypropylene, and can be reinforced with steel or wood if necessary. Plastic Pallets are engineered for longer life, improved efficiency, and environmental friendliness. View our full inventory of ISPM 15 exempt pallets at our plastic pallets catalog or take advantage of environmental and cost benefits with our used plastic pallets.
Wooden Pallets
With our own manufacturing facilities, Nelson is able to offer a wide range of standard wooden pallets as well as a variety of customized wooden packaging products including: pallets, skids, boxes, crates, cradles, blocking and top frames. Big order? No problem. Nelson's extensive in-house inventory of lumber allows us to always meet high volume requirements.
Presswood Pallets
Presswood pallets are molded from a mixture of wood fiber and synthetic resins making them versatile and economical. They are strong, solid, and nestable. In addition, they require only a fraction of the storage space of conventional pallets and help to reduce handling and unloading costs.
Slipsheets
Slip Sheets are an alternative to pallets for transporting unit loads. They are constructed of hardwood veneer permanently bonded on both surfaces with moisture-resistant kraft paper. Slipsheets are reusable, light-weight, and space-saving and they can significantly reduce your overall shipping expenses.