Reusable Pallets and Shipping Products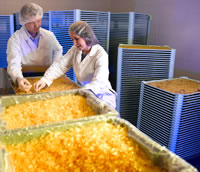 Reusable plastic pallets are clean and easy to handle. Plastic also allows for heat sterilization making the pallets clean and ready for shipment of food or pharmaceutical products.
In addition to protecting your products, our lightweight and consistently manufactured pallets protect the individuals handling them.
Reusable plastic pallets allow for easy handling by forklift and pallet jacks as well as other moving equipment – most are four way entry. Finally, our reusable plastic pallets are consistently dimensionally accurate which allows for greater productivity, resulting in less downtime and fewer costly accidents.
Environmental Benefits of Reusable Plastic Pallets
There are numerous environmental benefits over using wood. Plastic pallets are:
Impervious to acids, fats, solvents and odors
Resistant to water absorption or the growth of bacteria
Inert to infestation, mold and mildew
Save Costs with Reusable Plastic Pallets
Although reusable plastic pallets are generally more expensive in up-front cost than a wood pallet, plastic pallets get many more turns and last longer in your system. Over time, this equates to a lower cost per trip than wood.