A Full Life-Cycle Approach
The Nelson Company approaches transport packaging management in an innovative and unique way. We provide a full life-cycle service focusing on complete management and tracking of packaging interfaces such as pallets, skids, boxes, racks, and containers. Each of these packaging units can be used alone or in a completely integrated way to give you the most efficient support available.
Total Packaging Management
Our services and products revolve around Total Packaging Management. This service is our systems-based approach to transport packaging. Nelson provides total pallet and packaging solutions for its customers, including manufacturing and distributing new and recycled pallets. We also provide comprehensive logistical solutions along with our transport packaging services.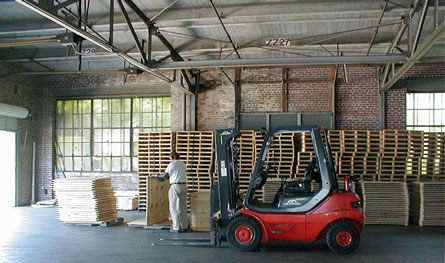 Service Solutions from The Nelson Company
The Nelson Company's Total Packaging Management has been effectively applied in chemical, paper, steel, automotive, and other manufacturing and distribution industries. Our sales professionals are trained in Unit Load Design, Pallet Design, and Life Cycle Analysis to ensure that you receive solutions to boost your company's performance. Our services include:
Transport Packaging System Analysis
Unit Load Analysis and Optimization
Reverse Distribution - Nelson-ART™
Packaging Waste Management
Single Source Supply of New Packaging
Internet-Based Management

Learn how you can take advantage of our proven Internet-based management system, Nelson-ART™, our Reverse Distribution tracking solution. All you need is access to the Internet and a password. Our unique and easy-to-use Web solution requires no special software or plug-ins.