What is Reverse Distribution?
Reverse Distribution (a subset of Reverse Logistics) is the creation and management of systems to reuse assets, focusing on the Cost-Per-Use of those assets. The Nelson Company concentrates on the Reverse Distribution of transport packaging assets, such as pallets, crates, containers and racks.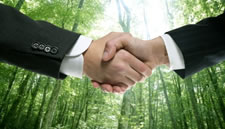 Reverse Distribution is the systematic process by which packaging assets are tracked, recovered, inspected, maintained and returned for reuse.
Encompassing the entire life-cycle of your packaging assets, Reverse Distribution closes the loop in the distribution chain.
The driving force in a Reverse Distribution system is Cost-Per-Use. The Nelson Company has created cost savings for its customers ranging from 10% to over 50%.
Benefits of Reverse Distribution
There are also numerous other benefits such as reduced environmental impact, improved customer service, minimized product damage through enhanced packaging, and improved safety. In most cases, a Reverse Distribution system can be implemented with existing packaging, but a more durable package will often produce a lower Cost-Per-Use.
A Reverse Distribution system can be implemented across all distribution points, or to a select group. There are three main Reverse Distribution models:
Intra-Company (Plant to Plant)
Vendor to Plant
Plant to Customer
The Nelson Company currently manages hundreds of thousands of packaging trips to and from thousands of locations across North America and abroad.
Nelson Company's Reverse Distribution Services
The Nelson Company offers all aspects of Reverse Distribution. The first process is to conduct the feasibility study that includes distribution and transportation analyses, as well as operating costs for all areas of the Reverse Distribution system. Offerings for active systems include transportation scheduling and logistics planning, all operational functions (loading, unloading, sorting, maintenance, repair), customer service and customer training, and tracking and transaction processing.
Nelson-ART™

To manage the Reverse Distribution process, The Nelson Company offers our transaction processing software, Nelson-ART.
Completely web browser based, Nelson-ART is an industrial-strength application running on a SQL database back-end. The Nelson Company is continually enhancing Nelson-ART to meet the needs of our customers.