Used Pallets and Shipping Products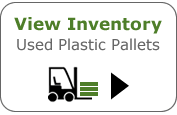 Used plastic pallets (reusable pallets) help to reduce environmental costs while also improving your bottom line. Reusable plastic pallets are designed to be durable and used repeatedly.
These multi-use pallets are perfect for in-house use or a closed-loop system. Most are designed to be used in an unsupported racking system.
Our used plastic pallets are rated by the number of "turns" they get before they are no longer in safe shipping condition. Once a used pallet completes its life cycle, the pallet is completely recyclable.
Buy Used Plastic Pallets
Due to the popularity of ISPM-15 exempt one-way plastic pallets, The Nelson Company has exceptional access to used plastic pallets. Visit our Used Pallets Inventory to view used pallets currently available for sale.