CPP330/ACM Plastic Pallet
48x40 Nestable Plastic Pallet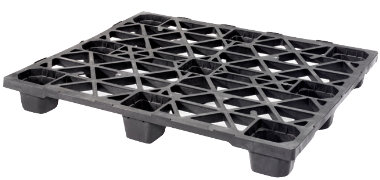 Sales Leader
The CPP330/ACM is a robust nesting plastic pallet designed to move your more challenging loads while still being cost effective.
The CPP330/ACM at a glance:
Best Seller
Plastic (ACM)
New
48x40 (Standard)
48x40x5.5 inch
1219x1016x140 mm
22.0 lbs
8,800 lb static
3,100 lb dynamic
Open Deck
9 Feet Base
Nestable
One-Way
Export
Air Freight
Low Cost
Pallet Features
A Best Seller
A customer favorite, the CPP330/ACM is always in high demand. Ask if this 48x40 top seller is your best plastic pallet.
48x40 Inches
Also known as a GMA pallet the 48x40 dimensions of this pallet make it the most popular size of all industrial pallets in the US.
Standard US
Popularized by the Grocery Manufacturers Association the 48x40 dimensions of this pallet are standard in the US for most any use.
Open Deck
The ventilated top deck of this plastic pallet provides good airflow plus the open design works well when strapping product.
9 Feet Base
The evenly-spaced 9 feet on the CPP330/ACM plastic pallet easily allow 4-way entry for forklifts and pallet jacks.
Nestable
The low profile nesting design of the CPP330/ACM plastic pallet saves space when empty for lower storage return transport costs.
New Pallet
Combining low weight with high strength makes new pallets more affordable than ever for better performance at a lower cost per trip.
Plastic Pallets
Plastic pallets like the CPP330/ACM are lightweight and durable. Its uniform length and width provide ease of use and safety.
Low Cost
A lower cost plastic pallet like the CPP330/ACM lets you ship it out and erase the fiscal worry that comes with pallets not coming back.
Food Grade
Place packaged foods and drinks on this food grade plastic pallet. The plastic design is easy to clean in the event of a break or spill.
One-Way
One-way plastic pallets like the CPP330/ACM let you send it and forget it making this a competitive alternative to pallet return options.
Export
Choose this plastic export pallet for guaranteed acceptance at all ports without the hassles of delayed shipments or expired paperwork.
Air Freight
Save costs when shipping cargo via air with the CPP330/ACM air freight plastic pallet. Perfect for single use and one-way air shipment.
Dynamic Load
Supporting 3,100 lbs of dynamic load when moved by a forklift or hand jack, this pallet works well in heavy duty applications.
---
CPP330/ACM Plastic Pallet
Quick Facts
Condition

New

Material

Size

48x40 (Standard US)

Dimensions

48x40x5.5 inch
1219x1016x140 mm

Weight

22.0 lbs

Static Load

8,800 lbs

Dynamic Load

3,100 lbs

Pallets/Truck

1620

Pallets/Stack

53

Top Deck

Open

Bottom Base

9 Feet - Nesting
Special Features
Lightweight and low height
Nesting saves storage & shipping costs
Low-cost Plastic Pallet
Easy-to-clean hygienic design
Suitable for packaged food items
(not approved for direct food contact)
Impervious to acids, fats, solvents and odors
Resists water absorption & bacteria growth
Inert to infestation, mold and mildew
Consistently dimensionally accurate
Exempt from ISPM 15 shipping regulations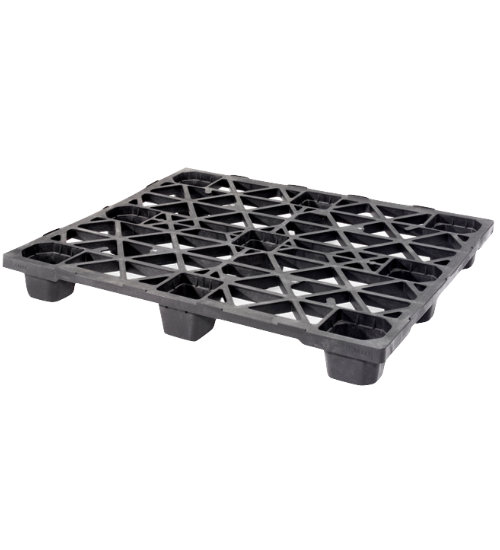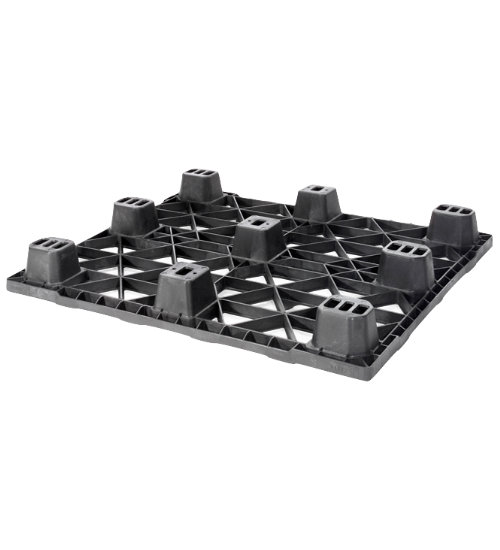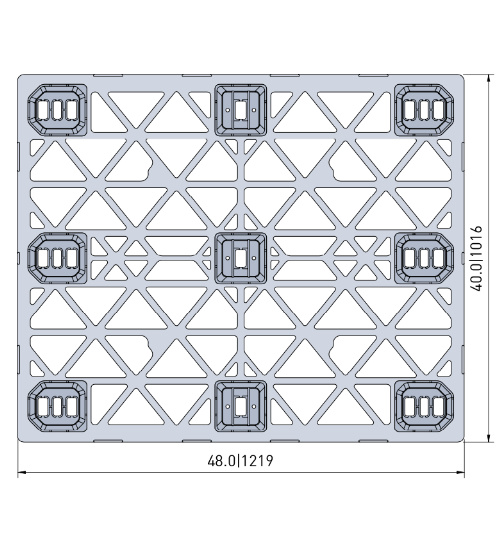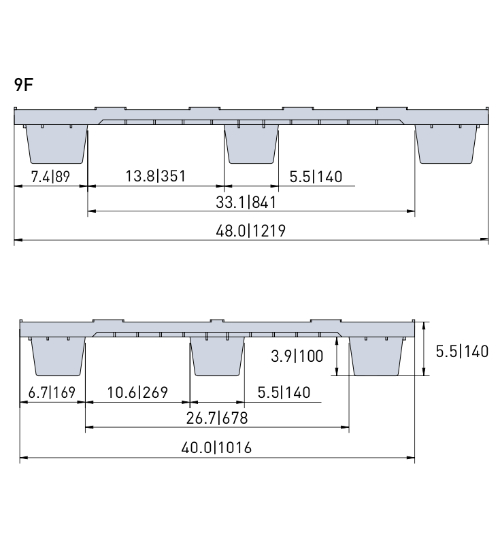 CPP330/ACM Specifications
Notes & Availability
A Best-Selling Pallet
In-Stock or Available
Low Cost Economy Pallet
Weights & Measures
48x40 (Standard US)
48x40x5.5 inches
1219x1016x140 mm
22.0 lbs
8,800 lb static load
3,100 lb dynamic load
1,620 per Truck
53 per Stack
TL (truckload) quantities are approximate and may vary by transport equipment or other factors.
Material
New Pallet
Plastic (ACM)
Recycled Material Option
Color Options: Black
Recycled
Design
Nestable
Open Top Deck
9 Feet - Nesting
4-way Entry
Available Options:
CPP330 - No skids (nestable)
CPP333 - 3 Runner snap-on skids*
CPP336 - 6 Runner snap-on skids*
*Order with skids off for lower shipping cost
Usage & Environment
Industrial Pallet
One-Way
Export
ISPM-15 Exempt
Air Freight Friendly
Non-contact Food Grade
Pharmaceutical
Specs subject to change without notice. Provided for informational purposes only. Technical data are guideline values and may vary based on intended use, features, raw materials and environment. Nothing shall be construed as warranties or guarantees, express or implied, regarding products or their use, application, performance or otherwise.