PWU-4840-GMA-SB Wood Pallet
48x40 Stackable Rackable Used Wood Pallet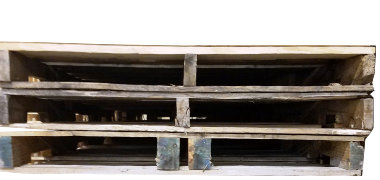 The PWU-4840-GMA-SB 48x40 used wood pallet is stackable and rackable with an open top deck and 5 board bottom base.
At a glance:
Wood (Mixed)
Used
48x40 (Standard)
48x40x4.75 inch
55 lbs
6,000 lb static
2,200 lb dynamic
2,000 lb racking
Open Deck
5 Board Base
Rackable
Stackable
One-Way
Multi-Trip
Captive
Export
Air Freight
Get a Price - PWU-4840-GMA-SB
Pallet Features
48x40 Inches
Also known as a GMA pallet the 48x40 dimensions of this pallet make it the most popular size of all industrial pallets in the US.
Standard US
Popularized by the Grocery Manufacturers Association the 48x40 dimensions of this pallet are standard in the US for most any use.
Open Deck
The open style top of this wooden pallet typically uses evenly spaced deck boards on the inside with larger lead boards at each end.
Stackable
Use this wood pallet in your closed loop system or as part of a return program for sending the wood pallet back in stacks.
Rackable
Built for strength and stability, this wooden racking pallet is custom designed specific to your system in either two or four-way entry.
Used Pallet
Graded and sorted by condition, this wooden pallet may have a little wear but is still full of life and ready to re-enter the supply chain.
Wood Pallets
This wooden pallet is built in a custom size specific to your application using our own plants and a network of wood pallet partners.
Food Grade
Safely place boxed food and drink on this wooden pallet for delivery to customers or for storing product with no direct food contact.
One-Way
Lighter materials takes center stage with this one-way wooden pallet custom designed to get the most product safely shipped at once.
Multi-Trip
This multi-trip wooden pallet is custom built to be heavy-duty but results in a lower cost per trip when added to a pallet return program.
In-House
Strong enough to be used again and again, this captive wooden pallet is custom built specifically for use in your DC or warehouse.
Export
Made from heat treated lumber, this custom wooden export pallet resists wood pests and is stamped per all ISPM 15 specifications.
Air Freight
This wooden pallet is custom built from materials that offer a lighter weight pallet for air cargo transport and lower air freight charges.
Dynamic Load
Supporting 2,200 lbs of dynamic load when moved by a forklift or hand jack, this pallet works well in heavy duty applications.
---
PWU-4840-GMA-SB Wood Pallet
Quick Facts
Condition

Used

Material

Recycled - Grade B

Size

48x40 (Standard US)

Dimensions

48x40x4.75 inch

Weight

55 lbs

Static Load

6,000 lbs*

Dynamic Load

2,200 lbs*

Racking Load

2,000 lbs*

Pallets/Stack

21

Pallets/Truck

600

Top Deck

Open

Bottom Base

5 Board
Special Features
Images shown for illustrative purposes only. Actual product will vary.
Available as ISPM-15 Compliant
Allows for safe double stacking
Suitable for packaged food items
(not approved for direct food contact)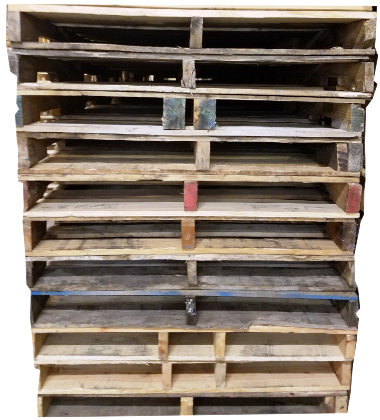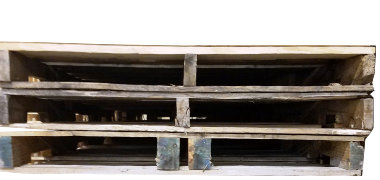 PWU-4840-GMA-SB Specifications
Weights & Measures
48x40 (Standard US)
48x40x4.75 inches
55 lbs
6,000 lb static load*
2,200 lb dynamic load*
2,000 lb racking load*
21 per Stack
600 per Truck
*Not all used pallet load capacities are available. Estimated safe load capacities are based on full pallet coverage. We reserve the right to change any stated information without prior notice. Not responsible for typographical errors.
Material
Used Pallet
Wood (Mixed)
Recycled - Grade B
Color Options: Wood
All used pallets have been inspected for damaged components. Pallets may have limited cosmetic damage, but all are structurally sound.
Design
Rackable
Stackable
Open Top Deck
7 Top
5 Board
4-way Entry
Usage & Environment
GMA Pallet
One-Way
Multi-Trip
Captive
Export
Air Freight Friendly
Non-contact Food Grade
Pharmaceutical