UP-1111-FP-NPC-CD35lb Plastic Pallet
43x43 Stackable Rackable Used Plastic Pallet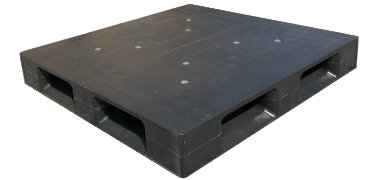 The UP-1111-FP-NPC-CD35lb at a glance:
Plastic (HDPE / PP)
Used
43x43 (Square)
43.3x43.3x6 inch
1100x1100x150 mm
35.0 lbs
7,200 lb static
2,400 lb dynamic
Closed Deck
6 Runner Base
Rackable
Stackable
One-Way
Multi-Trip
Captive
Export
Air Freight
Get a Price - UP-1111-FP-NPC-CD35lb
Pallet Features
43x43 Inches
This 43x43 square pallet is universally recognized for exporting granular and chemical product to Asia in Super Sack® bulk bags.
Square Pallets
This square pallet is popular with feed, chemical and beverage industries because the square design helps resist load tipping.
Closed Deck
The solid top deck of this plastic pallet keeps loose product from falling through plus the closed design works well with slip sheets.
Stackable
This stackable plastic pallet has a strong 6 runner bottom deck for safe double stacking of multiple plastic pallets with product.
Rackable
This rackable plastic pallet works in warehouse racking systems by using support from the 6 runner style bottom deck.
Used Pallet
Our used UP-1111-FP-NPC-CD35lb plastic pallet offers the expected reliability and quality of long lasting plastic at used pallet prices.
Plastic Pallets
Plastic pallets like the UP-1111-FP-NPC-CD35lb are lightweight and durable. Its uniform length and width provide ease of use and safety.
Food Grade
Place packaged foods and drinks on this food grade plastic pallet. The plastic design is easy to clean in the event of a break or spill.
One-Way
One-way plastic pallets like the UP-1111-FP-NPC-CD35lb let you send it and forget it making this a competitive alternative to pallet return options.
Multi-Trip
Get more turns using the UP-1111-FP-NPC-CD35lb multi-trip plastic pallet and easily win back startup costs with durable and reliable plastic.
In-House
Use the UP-1111-FP-NPC-CD35lb captive plastic pallet in closed loops to satisfy in-house reusability requirements with the reliability of plastic.
Export
Choose this plastic export pallet for guaranteed acceptance at all ports without the hassles of delayed shipments or expired paperwork.
Air Freight
Save costs when shipping cargo via air with the UP-1111-FP-NPC-CD35lb air freight plastic pallet. Perfect for single use and one-way air shipment.
Dynamic Load
Supporting 2,400 lbs of dynamic load when moved by a forklift or hand jack, this pallet works well in heavy duty applications.
---
UP-1111-FP-NPC-CD35lb Plastic Pallet
Quick Facts
Condition

Used

Material

Plastic (HDPE / PP)
High-Density Polyethylene / Polypropylene

Size

43x43 (Square)

Dimensions

43.3x43.3x6 inch
1100x1100x150 mm

Weight

35.0 lbs

Static Load

7,200 lbs*

Dynamic Load

2,400 lbs*

Racking Load

Sample Test Required*

Pallets/Stack

16

Pallets/Truck

480

Top Deck

Closed

Bottom Base

6 Runner - Perimeter+2 Cross
(cruciform perimeter base)
Special Features
Anti-slip Grommets on the closed deck
Allows for safe double stacking
Cubes out shipping container to save costs
Designed for Super Sack® and drum loads
Easy-to-clean hygienic design
Suitable for packaged food items
(not approved for direct food contact)
Impervious to acids, fats, solvents and odors
Resists water absorption & bacteria growth
Inert to infestation, mold and mildew
Consistently dimensionally accurate
Exempt from ISPM 15 shipping regulations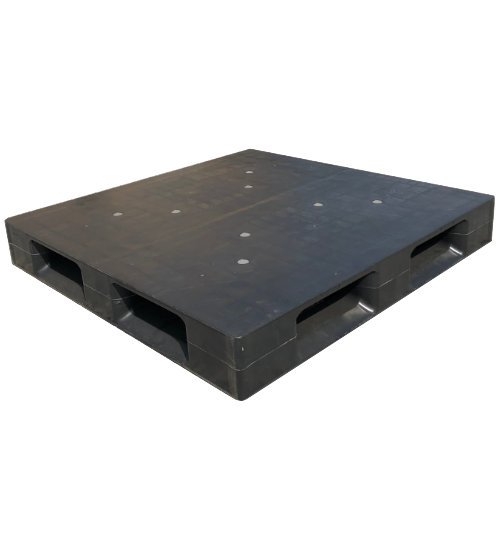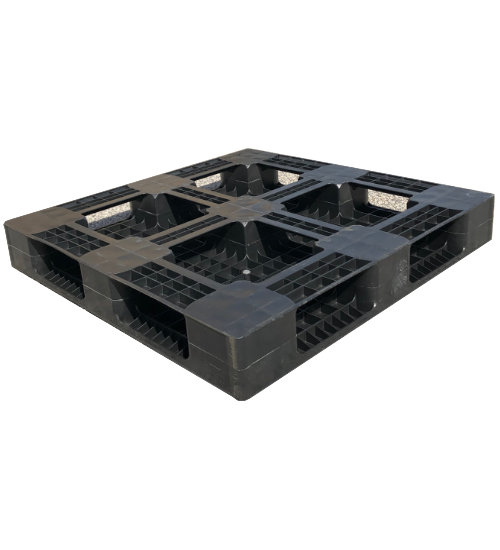 UP-1111-FP-NPC-CD35lb Specifications
Weights & Measures
43x43 (Square)
43.3x43.3x6 inches
1100x1100x150 mm
35.0 lbs
7,200 lb static load*
2,400 lb dynamic load*
Racking load sample test required*
16 per Stack
480 per Truck
*Not all used pallet load capacities are available and some may have changed since originally purchased. Specific unit load Sample Tests (ST) are recommended to insure successful use with specific applications and equipment. We reserve the right to change any stated information without prior notice. Not responsible for typographical errors.
Material
Used Pallet
Plastic (HDPE / PP)
High-Density Polyethylene / Polypropylene
Color Options: Black
All used pallets have been inspected and cleaned. Pallets may have limited cosmetic damage, but all are structurally sound.
Design
Rackable
Stackable
Closed Top Deck
6 Runner - Perimeter+2 Cross
4-way Entry
Usage & Environment
Container Pallet
One-Way
Multi-Trip
Captive
Export
ISPM-15 Exempt
Air Freight Friendly
Non-contact Food Grade
Pharmaceutical