Low Cost Affordable Plastic Pallets
Historically, low cost pallets were typically wood pallets that had been refurbished for additional use. Quite frankly, the method was popular because it was a cheap alternative to new pallets. Today, there are alternative materials available including durable low-cost pallets made from plastic. The Nelson Company offers new plastic pallets starting at very low prices and we also distribute affordable used plastic pallets.
Why Choose Plastic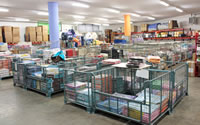 Generally, low-cost pallets are used for shipments in which the originating shipper does not expect the pallets to be returned.
Although the purpose of using low-cost pallets has remained the same, many companies are changing their choice of material to plastics.
As with many products, low cost can sometimes mean lower quality. In some cases, the product doesn't perform as well. That simply is not the case with low-cost plastic pallets.
Low-cost wood pallets are currently popular in domestic shipments because ISPM-15 regulations do not apply. However, due to the shortage of new hardwood pallets, low cost wood pallets are becoming more difficult to source. In addition, any savings can easily be negated due to unexpected costs related to damage and safety problems. Instead of putting up with the issues of a low quality or refurbished wood pallet, consider plastic instead.
In addition to plastic pallets, paper based pallets are often used as low cost alternative to the wood pallet. However, there are drawbacks to paper based pallets due to the materials and construction. Moisture and poor handling endured on overseas shipments can unfortunately cause paper pallets to fail. Plastic pallets make an excellent choice because they are:
Impervious to acids, fats, solvents and odors
Resistant to water absorption or the growth of bacteria
Inert to infestation, mold and mildew
Buy Plastic Pallets Cheap - Low Cost Options
Due to developments in plastic recycling technology, plastic pallets have become a low cost and ISPM-15 compliant alternative to wood pallets. Not only can plastic pallets save money, but some designs can save space too.
Our lowest cost pallets are nestable plastic pallets. Less material is used in manufacturing, making the unit cost lower. And, with its nesting capability, a nestable plastic pallet can offer significant savings in all phases of a pallet's lifecycle from the original shipment process to back haul process to the return and storage of empty pallets.