Angleboard for Plastic Pallet Corner Protection
The Nelson Company offers Armorboard, angleboard protective packaging systems for use with shipping pallets.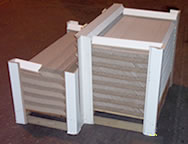 Our angle board edge protectors provide corner protection, unitization and stacking strength for protecting your pallet loads from strapping and other damage.
Available in a variety of sizes, materials and printing options, Nelson is equipped to provide you or your customer with quick delivery of our angleboard pallet corner protection products.
Sizes and Specifications
Our Armorboard is a made-to-order product. Various size configurations allow Armorboard to be custom fit to any pallet application. Three measurements determine size: Leg Length, Caliper and Board Length.

Leg length

Armorboard is produced from four paper sizes: 4, 5, 6 and 8 inch. The angle is formed with either equal or offset leg length. Popular sizes listed below.
| Paper Size | Leg Length |
| --- | --- |
| 4" | 2"x 2" or 1.5"x 2.5" |
| 5" | 2.5"x 2.5" or 2"x 3" |
| 6" | 3"x 3" or 2"x 4" |
| 8" | 4"x 4" or 3"x 5" |
Caliper

The angleboard's caliper, or thickness, is measured in thousandths of an inch and range from.060 to .500. Custom calipers are available per request.
Available in Thirteen (13) Standard Sizes
.080
.090
.100
.120
.140
.160
.180
.200
.225
.250
.275
.325
.400
Board length

Armorboard is cut to order. Any length between 2.5 inches and 16 feet can be ordered:
Specifications
Degree of Angle
85 to 95
Caliper .250 and Below
minus .010" plus .005"
Caliper Above .275
minus .015" plus .005"
Leg length Tolerance
plus or minus 1/8"
Board length Tolerance
plus or minus 1/8"
Custom Angleboard Sizes

We realize that there are times when one skid is too much, or exact quantities are required. We strive to remain flexible by offering less-than-pallet quantities and Custom Piece Count.
Delivery
Nelson's Armorboard has always offered some of the fastest lead-times in the industry. In today's world of just-in-time delivery, wouldn't it be nice to have a White Knight fighting for you? Nelson's Armorboard is proud to introduce our WHITE KNIGHT SERVICE. "Fast has gotten faster." Our lead times:
5 working days – Standard Length Product
"WHITE KNIGHT SERVICE" – For Rush Orders - Contact Us for Details
10 working days – Printed products
10 working days – Short length product – 18" and under
Printing
Highlight your company's message with Nelson's Armorboard's printing options. Our tight registration press is capable of 1, 2, or, 3 color printing with minimal over stamping. Our quality printing gives your company's name or logo the professional look it deserves!

Custom Printing
Nelson's Armorboard can print your company name, information, logo, handling instructions, product number, or whatever information you would like. This information can be printed on the inside or outside of the product.

Message Center
Nelson's Armorboard has

7 stock messages available from which to choose. These messages can be mixed and matched.

Print Options
Free One Color Printing
Minimal one time charge for Plates and Art Work
Three Color Capability
Contact Us for Details
The Nelson Company offers competitive pricing on our angle board protective packaging products and will drop-ship to your customer in full or less-than-pallet quantities. Contact us today for details.