Industrial Packaging Products
The Nelson Company is committed to a line of products that provide cost-effective solutions for your palletizing needs. These products can lower costs for your company and may be the perfect solution to your packaging challenges. Many of our packaging solutions are not only environmentally "green," but can be considered "green/green" in that they are friendly to the environment and will decrease overall cost, maximizing your profitability.
Products To Improve Your Bottom Line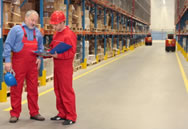 The Nelson Company specializes in customized, returnable and expendable packaging.
Our knowledgeable sales professionals will assist you in determining how our systems-based approach can reduce your transport packaging costs with these quality products:
Pallets / Platforms
Plastic Pallets - Injection and Rotary Molded, Thermoformed
New, Used, Recycled, and Hybrid, Stringer and Block
Engineered Wooden Pallets - Plywood, OSB, Composites
Skids, Cradles, Blocking and Top Frames
Metal Pallets and Racks - Steel, Stainless Steel and Aluminum
Presswood Pallets
Slip Sheets - Corrugated, Plastic, Chipboard, Hardwood Veneer
Standard Sizes and Custom Fabricated
Construction Mats
Crates / Containers
Wooden Boxes and Crates - Hardwood, Softwood and Plywood
Plastic Containers - Collapsible, Removable Wall, Solid Wall and Ventilated
Metal Containers - Steel, Stainless Steel and Aluminum
Multi-Wall Corrugated Containers
Fabricated to Specifications
Packaging / Unitizing
Protective Packaging - Angleboard, Air Bags, Void Fillers
Corrugated Products
Bulk Bags (FIBC)
Stretch Wrap Unitizing Film