Wood Pallets and Shipping Products

The Nelson Company is your "Palletizing Solutions Company."  We manufacture wooden and corrugated industrial packaging products, including wood pallets and containers.
Our in-house lumber inventory is extensive and allows us to meet any volume requirements - big or small. Plus, Nelson operates our own fleet of trucks - assuring delivery where and when you need it.
Wood Pallet Design System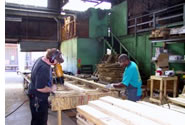 With our own manufacturing facilities we are able to offer a wide range of customized wooden packaging products such as pallets, skids, boxes, crates, cradles, blocking and top frames.
Utilizing modern machinery minimizes our labor costs, providing you reduced product cost to maximize your investment.
As one of only a limited number of exclusive licensees, we use the latest "PDS" (Pallet Design System) computer software to analyze customers' specific needs and design custom wooden pallets to meet requirements for strength, durability and economy.
Wood Pallet Retrieval System

Our materials handling service doesn't end with the supply or custom development of pallets. The Nelson Company can arrange to retrieve and return these back to you or your customers. Our Internet-based pallet management system Nelson-Art allows customers to track pallets through the supply chain always flagging when additional inventory is needed.