NPC-4840-28-DPKB-V Plastic Container
NPC-4840-28-DPKB-V 48x40x28h Plastic Shipping Container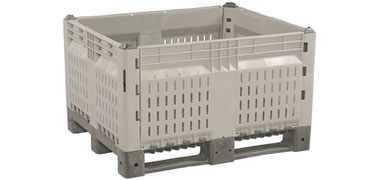 Ventilated Wall Collapsible Shipping Container with Removable Walls
Patented design allows walls to be completely detached from pallet. Ventilated side walls. Completely sanitary – can be high-pressure washed and sterilized.
The NPC-4840-28-DPKB-V at a glance:
Plastic Container
New
48x40x28h
Ventilated Wall
Collapsible
Removable Walls
Get a Price - NPC-4840-28-DPKB-V
Container Features
These ventilated bulk containers were designed for the agricultural industry. Vented side walls and virgin plastic allow this 48x40x28 plastic container to meet USDA Standards for direct food contact in agricultural and food processing industries. Inherent hydro-cooling prevents bacteria and mold growth. Also perfect for applications where your handling process involves fluid that needs to drain from product. Metal fabrication and stamping is a popular industry served with this container.
⇩
---
NPC-4840-28-DPKB-V
48x40x28h
Quick Facts
Dimensions

48x40x28h

Condition

New

Material

Plastic

Wall Design

Ventilated Walls
Collapsible Walls
Removable Walls
Features
Patented interlocking corners allow for safe stacking
Meets USDA standards for food product handling
Tough yet lightweight - move by hand when empty
Assemble containers in less than a minute
Interchangeable sidewall panels completely detach
Save space by fitting 4 unassembled containers into one
UV protected for outdoor use
Fully recyclable
Engineered for long life and repeated use
Exempt from ISPM 15 shipping regulations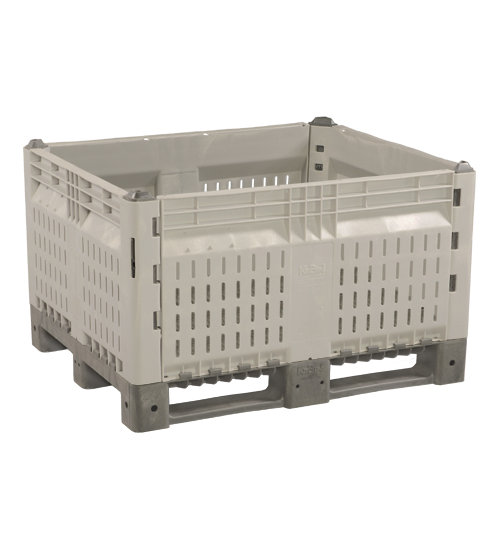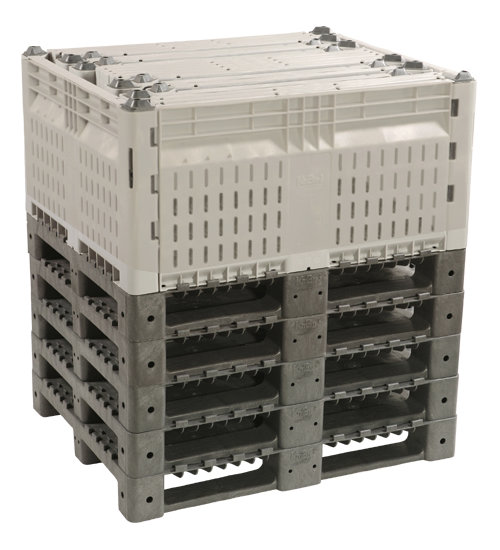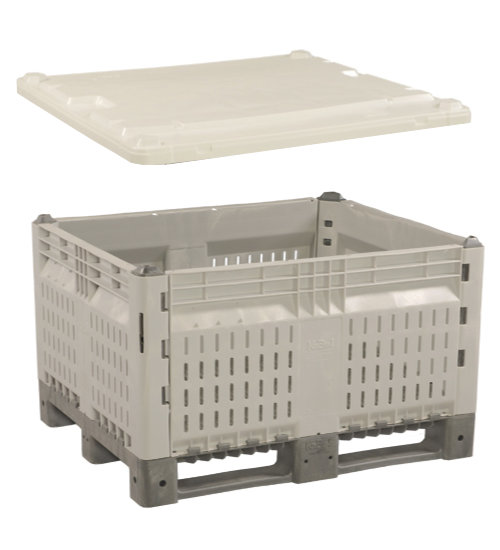 NPC-4840-28-DPKB-V Specifications
Technical Data
Dimensions
Outside

48 x 40 x 28 in

Inside

44 x 36 x 23 in

Fill Line Height

23 in

Collapsed Height

N/A
Weight

84 lbs
Load Capacity

1,320 lbs

Stack Capacity

6,600 lbs

Entry

4-Way

Truckload Qty

315 (250 w/lid)
All dimensions and specifications approximate. Performance characteristics based on uniform static loads and may be affected by load distribution, handling methods, number & type of access doors and temperatures outside 0-120°F. We reserve the right to change any stated information without prior notice. Not responsible for typographical errors.
Container Specs
Drop Gates

None

Side Walls

Ventilated
Removable
Available Options:
Covers
Drain Plugs
Casters
Labels
Cardholders
Embossed Logos
RFID Tags
Handling Data
Collapsible

Yes

Stackable

Yes
Food Grade

FDA Approved
USDA Approved

Pharmaceutical

Yes
ISPM-15 Exempt

Yes
Materials and Colors
Condition

New

Material

HDPE (Virgin*)
(High-Density Polyethylene)

Color

Gray/Custom*
*Custom colors & markings available. (Minimum qty req.)