This Plastic Pallet Performs like a Wood Stringer
Use the RackNest plastic pallet in unsupported racks, roller conveyors or for double-stacking.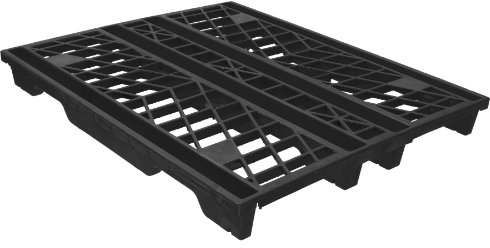 Rack and Nest
Finally... a plastic pallet that saves a ton of space when not in your racking system.
Easily Lift by Hand
Hate lifting and moving heavy racking pallets by hand? How does 18 pounds sound?
True 48" Racking
Not all racking pallets are the same. Get true rackability in the 48 inch direction.
Save on Freight
When is a truckload not a truckload? One TL of RackNest equals 3+ TL of traditional rackables.
RackNest to the Rescue
Lightweight and affordable, the RackNest plastic pallet is engineered to look and function like a traditional, wooden stringer pallet.
RackNest is helping customers just like you discover answers to these everyday pallet challenges and more:
I have Limited Storage
I need a plastic pallet that works in unsupported racks but I have very limited storage space.
I Need Budget Friendly
I need a low-cost pallet, but I also need a plastic pallet that can work in an unsupported rack.
I have Stacking Damage
I double-stack pallet loads but conventional "leg" style nestable pallets dig into the load below.
I Roll on a Conveyor
I have a roller conveyer system and some of the low-cost nestable pallets I've tried don't work well.
I Ship One-Way
I have to ship overseas but cannot afford the high cost of heavy-duty rackable pallets going one way.
I Need Lightweight
My plant requires our pallets to be moved around by hand but rackable pallets are all so heavy.