The Nelson Technical Center
Reduce Total Cost of Ownership
Our Systems Approach achieves the lowest total costs by making sure these three key elements of your packaging system work together: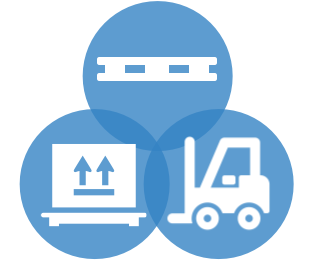 1. Pallet
The smallest detail can make the difference between a successful pallet design and a costly mistake.
2. Packaging
Designing packaging elements independently curbs innovation and limits chances for exceptional savings.
3. Handling
Leaving equipment compatibility to chance opens the door for preventable mishaps and loss to happen.
Your Technical Control Center
Packaging specifications seem to be changing at an alarmingly fast pace. Keeping up is becoming just plain overwhelming. We can help.
The Nelson Technical Center has been assisting packaging engineers for decades. Reducing total cost of ownership with an eye towards sustainability is our core focus. We can help your company reduce damage, improve packaging or standardize pallets for improvements everyone in your supply chain will see.
Packaging Analysis
Our all-inclusive evaluation of current systems and processes takes place at your facility. The process can last several hours to a few days and concludes with our Opportunity Assessment Report.
Design & Tech Support
Imagine a perfectly load-balanced shipment that is properly sized, better protected and costs less. And, if you're exporting, picture your freight sailing through customs inspections.
Lab Tests & Field Trials
Can your packaging hold up to the rigorous challenges of industrial shipping and warehousing? Controlled testing environments validate materials and designs.
Improvement Teams Welcome
Consider us an extension of your team for helping to solve specialized problems, reduce waste and improve control in your transport packaging systems.
Become your Company's Logistics Hero
When all three key elements of your packaging system work in perfect harmony, no one even notices them. That's how it should be.
You want a transport packaging consultant that can solve your unique challenges and understand everything you go through on a daily basis. That's The Nelson Technical Center.
Experience
We've been in your shoes. We manage and support transport packaging systems in ways that help your company save.
Advice
Get realistic, expert advice from wood science specialists and packaging engineers for advancing your goals.
Strategy
We shift the focus from operations to strategy for optimizing savings opportunities throughout your system.