UPC-4845-25-CE Plastic Container
UPC-4845-25-CE 48x45x25h Used Plastic Shipping Container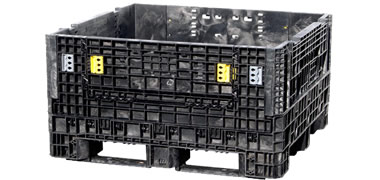 Solid Wall Collapsible Shipping Container
These used pallet containers are available with or without lids. Four-way entry allows easy forklift access.
The UPC-4845-25-CE at a glance:
Plastic Container
Used
48x45x25h
Solid Wall
Collapsible
Get a Price - UPC-4845-25-CE
Container Features
Easily move and stack these 48x45x25 used pallet containers in the warehouse. Two drop gates allow workers to get to contents quickly and safely. Need to save space? These 48x45x25 plastic bulk containers quickly collapse when not in use. Great for securing merchandise at trade shows or kitting.
⇩
---
UPC-4845-25-CE
48x45x25h
Quick Facts
Dimensions

48x45x25h

Condition

Used

Material

Plastic

Wall Design

Solid Walls
Collapsible Walls
Features
Stacks with or without covers
Closed-grid bottom
Articulating hinge allows open door to lie flat against container
Made of post-industrial scrap; completely recyclable
Suitable for packaged food items
(not approved for direct food contact)
OEM and AIAG approved
Engineered for long life and repeated use
Exempt from ISPM 15 shipping regulations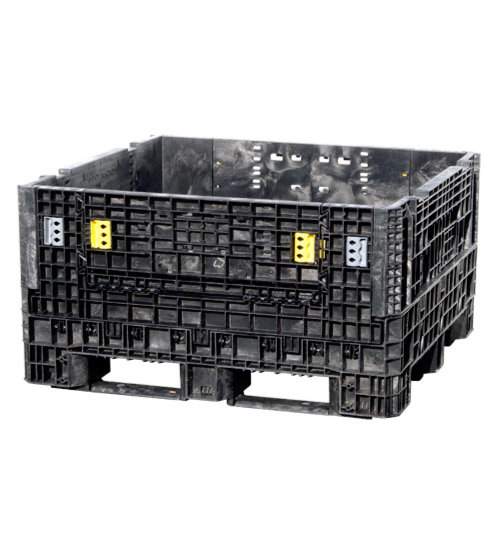 Images for illustration only. Actual color may vary or be mixed and subject to availability.
UPC-4845-25-CE Specifications
Technical Data
Dimensions
Outside

48 x 45 x 25 in

Inside

44.3 x 41.5 x 19 in

Fill Line Height

18.6 in

Collapsed Height

12.7 in
Weight

120 lbs
Load Capacity

2,000 lbs

Stack Capacity

Entry

4-Way

Truckload Qty

112 (252 collapsed)
All dimensions and specifications approximate. Performance characteristics based on uniform static loads and may be affected by load distribution, handling methods, number & type of access doors and temperatures outside 0-120°F. We reserve the right to change any stated information without prior notice. Not responsible for typographical errors.
Container Specs
Drop Gates

2

Side Walls

Solid
Available Options:
Covers
Handling Data
Collapsible

Yes

Stackable

Yes
Food Grade

Non-contact

Pharmaceutical

Yes
ISPM-15 Exempt

Yes
Materials and Colors
Condition

Used

Material

HDPE (Recycled)
HDPE (Virgin*)
(High-Density Polyethylene)

Color

Black
Gray/Custom*
*Custom colors & markings available. (Minimum qty req.) All used containers have been inspected and are structurally sound. May have limited cosmetic damage or mixed colors. Refurbished runners may be metal.