NPP-4840-FP-PSG5.1 Plastic Pallet
48x40 Stackable Plastic Pallet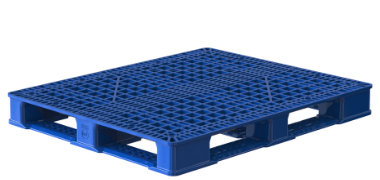 The NPP-4840-FP-PSG5.1 48x40 plastic pallet is stackable with an open top deck and 6 runner (cruciform perimeter) bottom base.
At a glance:
Plastic (HDPE)
New
48x40 (Standard)
48x40x5.13 inch
1219x1016x130 mm
34.0 lbs
20,000 lb static
4,000 lb dynamic
Open Deck
6 Runner Base
Stackable
Fire Retardant Option
Multi-Trip
Captive
Air Freight
Get a Price - NPP-4840-FP-PSG5.1
Pallet Features
48x40 Inches
Also known as a GMA pallet the 48x40 dimensions of this pallet make it the most popular size of all industrial pallets in the US.
Standard US
Popularized by the Grocery Manufacturers Association the 48x40 dimensions of this pallet are standard in the US for most any use.
Open Deck
The ventilated top deck of this plastic pallet provides good airflow plus the open design works well when strapping product.
6 Runner Base
The cross-bottom cruciform base of the 6 runner NPP-4840-FP-PSG5.1 plastic pallet is a good match for block stacking.
Stackable
This plastic pallet has a strong 6 runner bottom deck for safe double stacking of multiple plastic pallets with product.
New Pallet
Combining low weight with high strength makes new pallets more affordable than ever for better performance at a lower cost per trip.
Plastic Pallets
Plastic pallets like the NPP-4840-FP-PSG5.1 are lightweight and durable. Its uniform length and width provide ease of use and safety.
Food Grade
Place packaged foods and drinks on this food grade plastic pallet. The plastic design is easy to clean in the event of a break or spill.
Fire Retardant
Our fire retardant NPP-4840-FP-PSG5.1 plastic pallet option meets standards to be safer in areas where fire protection is a priority.
Multi-Trip
Get more turns using the NPP-4840-FP-PSG5.1 multi-trip plastic pallet and easily win back startup costs with durable and reliable plastic.
In-House
Use the NPP-4840-FP-PSG5.1 captive plastic pallet in closed loops to satisfy in-house reusability requirements with the reliability of plastic.
Air Freight
Save costs when shipping cargo via air with the NPP-4840-FP-PSG5.1 air freight plastic pallet. Perfect for single use and one-way air shipment.
Dynamic Load
Supporting 4,000 lbs of dynamic load when moved by a forklift or hand jack, this pallet works well in heavy duty applications.
---
NPP-4840-FP-PSG5.1 Plastic Pallet
Quick Facts
Condition

New

Material

Virgin High-Density Polyethylene

Size

48x40 (Standard US)

Dimensions

48x40x5.13 inch
1219x1016x130 mm

Weight

34.0 lbs

Static Load

20,000 lbs

Dynamic Load

4,000 lbs

Pallets/Stack

20

Pallets/Truck

600

Top Deck

Open

Bottom Base

6 Runner - Perimeter+2 Cross
(cruciform perimeter base)
Special Features
Ideal for closed loops or distribution chains across industry sectors including Food, Retail, Medical and Pharmaceutical.
4,000 lbs Racking capacity in supported racks
Low profile pallet allows for more product or box height
One-piece design
Hygienic, flow-through design
Allows for safe double stacking
Easy-to-clean hygienic design
Suitable for packaged food items
(not approved for direct food contact)
Impervious to acids, fats, solvents and odors
Resists water absorption & bacteria growth
Inert to infestation, mold and mildew
Consistently dimensionally accurate
Exempt from ISPM 15 shipping regulations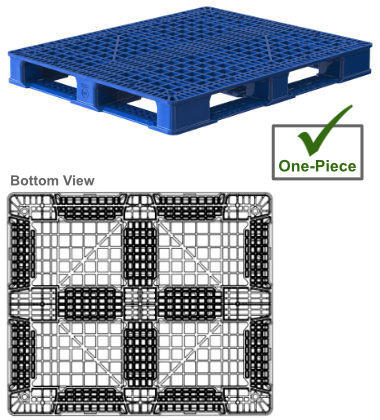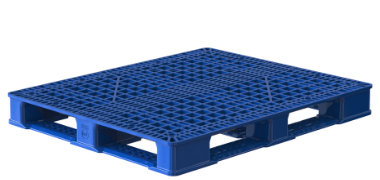 NPP-4840-FP-PSG5.1 Specifications
Weights & Measures
48x40 (Standard US)
48x40x5.13 inches
1219x1016x130 mm
34.0 lbs
20,000 lb static load
4,000 lb dynamic load
20 per Stack
600 per Truck
Available in Truckload or LTL quantities. Minimum quantity required. We reserve the right to change any stated information without prior notice. Not responsible for typographical errors.
Material
New Pallet
Plastic (HDPE)
Virgin High-Density Polyethylene
Color Options: Blue, Gray, Black (and others)
Design
Stackable
Open Top Deck
6 Runner - Perimeter+2 Cross
4-way Entry
Also available with 3-runner bottom

Special Order Options:
Fire Retardant FM Approved non-deca BDE
Anti-microbial additive
Individual Markings
Anti-Slip Grommets
Usage & Environment
Industrial Pallet
Multi-Trip
Captive
ISPM-15 Exempt
Air Freight Friendly
Non-contact Food Grade
Pharmaceutical
Fire Retardant Option