NWC-CRSL-IC Solid Lumber Wooden Shipping Crate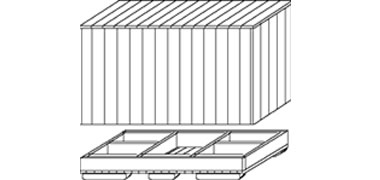 Closed-Frame Custom Crate with Internal Cleats
The NWC-CRSL-IC custom closed solid lumber wooden shipping crate with internal cleats from The Nelson Company. We can meet any volume requirement and offer custom-built wood crates in sizes optimized for your cargo.
The NWC-CRSL-IC at a glance:
Wood Crate
New
Internal Cleating
Flush External
Stackable
Rackable
One-Way
Get a Price - NWC-CRSL-IC
Crate Features
Stackable
Use this stackable wood crate in your closed loop system or as part of a return program for sending the wood crate back in stacks.
Rackable
Built for strength and stability, this wooden racking crate is custom designed specific to your system in either two or four-way entry.
New Crate
Customized dimensions for this new wooden crate along with specific choices in materials and fasteners add up to transport savings.
One-Way
Lighter materials takes center stage with this one-way wooden crate custom designed to get the most product safely shipped at once.
---
NWC-CRSL-IC Solid Lumber Panel Crate w/Int Cleats
Quick Facts
Condition

New

Material

Wood
Panels: Lumber-HW, Lumber-SW
Cleating: Lumber-HW, Lumber-SW
Base: Lumber-HW, Lumber-SW

Cleating

Internal

Flush Panels

External
Typical Industries and Uses
Electronics
Rolled Products
Textile
Medical
Device
Automotive
Equipment
High Value
Custom
Features
Heavy Duty
Maximum Protection
Customizable dimensions
Flush External Dimensions
Fully Contained
Heat Treated-ISPM-15: Optional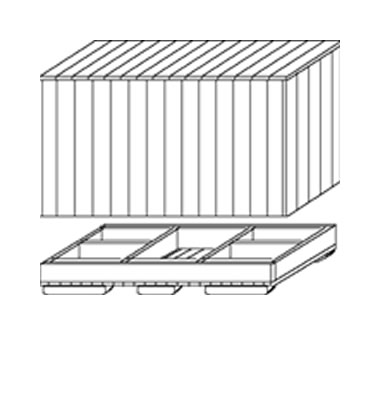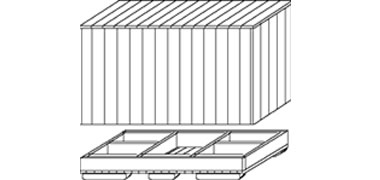 NWC-CRSL-IC Specifications
Custom Crate Options
Design Options
Base

2-way, 4-way

Fasteners

Screws, Nails, Staples, Bolts

HT per ISPM15

Optional for International Shipments
Load Ratings
Available

Heavy Duty: > 2500 lbs.
Available in Truckload or LTL quantities. Minumum quantity required. We reserve the right to change any stated information without prior notice. Not responsible for typographical errors.
Materials and Markings
Material
Panels

Lumber-HW, Lumber-SW

Cleating

Lumber-HW, Lumber-SW

Base

Lumber-HW, Lumber-SW
Markings
Markings

Optional Stencil, Labels, Paint
Notes:
OSB: Oriented-Strand Board
MDF: Medium-Density Fiberboard
Handling Data
Stackable

Yes

Rackable

Yes
Cleating

Internal

Flush Panels

External
Reusability

One-Way, Multi-Use

Equipment

Pallet Jack, Fork Truck
Delivery Options
Knocked Down (Collapsed)
Assembled (Set up)
One or Multiple Sides/Ends Removable
Build On-Site